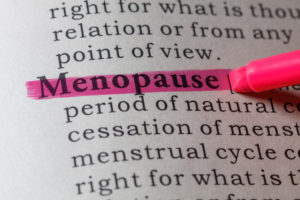 According to an article in Boston Magazine, an estimated 69 percent of people between the ages of 25 and 44-years-old have lost at least one permanent tooth. By the age of 50, that number goes up to an average of 12 teeth (including wisdom teeth). People who are able to go through menopause typically do so between the ages of 45 and 55, and it may come as a surprise, but this natural change can also impact your dental health, and even your dental implant procedure to restore missing teeth. Read on to learn more about how menopause can affect your smile.
The Ins-and-Outs of Menopause
A majority of people who can go through menopause spend about a third of their lives post or currently menopausal. It's a natural series of changes in the body that's triggered 12 months after the last period. During menopause, people can experience symptoms like irregular menstrual cycles, hot flashes, night sweats, sleep problems, and mood changes, and this can last for between seven and 14 years, on average.
The key change during this period is the decreased estrogen and progesterone production in the ovaries. This can contribute to the function of the immune system, which is why some menopausal people may develop autoimmune conditions or more easily get the common cold or flu.
Menopause and Dental Health
When the body begins producing less estrogen and progesterone, or sex hormones, it doesn't just lead to more frequent colds—it can also impact your oral health, including jawbone density and the body's ability to fight off harmful oral bacteria that can lead to gum disease. Therefore, it's crucial to maintain a good oral hygiene routine as you're going through, and after menopause.
Risks of Dental Implant Failure & Menopause
Just because you go through menopause doesn't mean that you're not a good candidate for dental implants in Lakewood. Everyone's immune system is affected by aging, but by maintaining healthy habits like daily brushing and flossing, routine visits to your dentist for checkups and cleanings, and not smoking or drinking excessively, you can drastically decrease your risk of experiencing dental implant failure if you're actively or post-menopausal.
Implementing these healthy habits into your life will allow your titanium dental implants to properly fuse with your jawbone, which will provide a strong and stable foundation for your restoration to be attached to, whether it's a partial denture, full denture, or crown to replace a single missing tooth. Your cosmetic dentist can also provide additional tips to minimize your risk of implant failure so you can enjoy a restored, fully functional and natural-looking smile for a lifetime.
About the Author
Dr. Vinnie Artino is a friendly, caring, and skilled dentist who has completed additional training in several specialties, including dental implant treatment. Because of this, he's able to complete the entire procedure, from dental implant placement to the attachment of restorations, under one roof for added quality and convenience. To learn more about how to restore missing teeth with dental implants, visit Lakewood Complete Dentistry's website or call 303-238-2800.