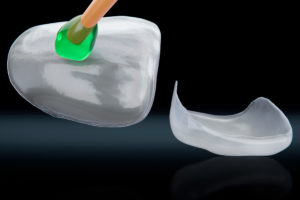 If you have cosmetic imperfections like slightly misaligned, cracked, chipped, or gapped teeth that impact your self-confidence, veneers in Lakewood could be a wonderful solution. Because this treatment is custom designed for premium results unique to your smile, there will be a period of time that you'll need to wear temporary veneers until your cosmetic dentist can secure the permanent restorations to your teeth. Read on to learn more about temporary veneers and why they're needed in this process.
What are Temporary Veneers?
Temporary veneers are thin, acrylic or composite resin sheaths that are placed over your prepared teeth as your permanent veneers are being crafted. They allow you to continue moving through the world with confidence, protect your prepared teeth, and provide time for your customized veneers to be meticulously crafted to meet your standards. Temporary veneers are only meant to be worn for a short period of time (approximately two to three weeks) and aren't made out of as high-quality material as permanent ones, so you'll need to be mindful of that while you have them.
Are There Any Benefits of Temporary Veneers?
Some benefits of having temporary veneers:
They're able to protect your prepared teeth that could otherwise be vulnerable without them.
They're easy to care for.
They allow you to get used to your new and improved smile
They allow you a preview of what your permanent veneers will look like.
Do You Need to Avoid Certain Foods with Temporary Veneers?
Because your temporary veneers are made from dental materials that aren't as durable as porcelain, like acrylic and composite resin, it's a good idea to steer clear of foods that are excessively chewy and sticky. This can include:
Chewing gum
Fresh, crunchy fruits and vegetables (like apples, carrots, etc.)
Chewy meat
Toasted sandwiches or crusty breads
Crackers and chips
Hard and sticky candies
Corn (popcorn, corn-on-the-cob)
Ice cubes
By avoiding these crunchy and chewy foods, you'll be able to ensure your temporary veneers stay on your teeth until you visit your cosmetic dentist in Lakewood again.
What Do Temporary Veneers Feel Like?
When your temporary veneers are adhered to your teeth, they may feel thick and uncomfortable for a few days as you're getting used to them. This can be heightened whenever you speak or eat, and your teeth may feel sensitive to foods that are hot, cold, or sweet.
How Long Do You Need to Wear Temporary Veneers For?
Typically, temporary veneers are worn for between two and three weeks, because that's how long they're made to last. After all, they're just a pit stop between you and your new, beautifully restored grin. Once your permanent veneers arrive at your cosmetic dentist's office, you'll go in to have your temporary ones removed and those cemented onto your teeth.
Although temporary veneers may seem like an inconvenience in the process of restoring your smile, they actually offer some great benefits, and it's important to remember that they aren't representative of the final, durable veneers that you'll have placed after they're removed.
About the Author
Dr. Vinnie Artino is a highly skilled, optimistic, and kind cosmetic dentist with years of experience under his belt. He has completed countless hours of continuing education to stay on top of cutting-edge treatments in his field, including orthodontics, cosmetic procedures, and dental implants. His office is also equipped with the latest technology for top-tier results, including digital X-ray imaging, intraoral cameras, and more. For questions or to schedule a consultation to learn more about veneers, visit Lakewood Complete Dentistry's website or call 303-238-2800.