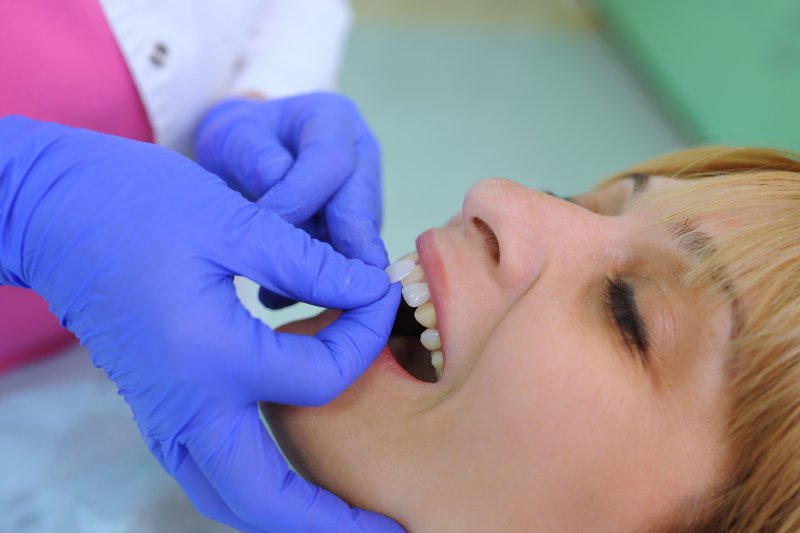 Well-crafted veneers can change your life completely, giving you a beautiful, gleaming smile that'll impress everyone you meet. That confidence feels great, and if you're experiencing it for the first time—or will soon—you're probably interested in trying to keep it for as long as possible. Fortunately, there are quite a few ways to make your veneers last. If you want to learn how to keep them shining for as long as possible, here's a guide that might be able to help.
Getting the Most Out of Your Veneers
Once your veneers have been set on your teeth, here are a few things you can try to keep them in good shape:
Brush Twice a Day, Floss Daily: Starting with an easy one, brushing and flossing combat gum disease and tooth decay, which gives your veneers a much stronger foundation to stand on.
Avoid Staining Food: While the porcelain commonly used in veneers is stain-resistant, it isn't quite stain-proof. Red wine, soy sauce, coffee, tea, and other foods can all discolor your smile over time. Cutting back can keep your smile shining for a long time to come.
Use the Right Toothpaste: Most toothpaste is designed for your natural teeth, so not all of them are well-suited to cleaning your veneers. There are two kinds of toothpaste specifically that can cause problems.

Abrasive toothpaste: Toothpaste with baking soda and charcoal normally scrub stains away from your teeth, but porcelain is much softer than your enamel. Veneers can be damaged by these gritty kinds of toothpaste.

Whitening toothpaste: Hydrogen peroxide is commonly used to make smiles whiter. Unfortunately, whitening toothpaste with hydrogen peroxide can weaken and degrade veneers.

Avoid Biting Down on Hard Things: Eating hard candy, accidentally biting on bones, and using your teeth as tools can all easily chip a veneer if you aren't careful.
If you do all the above things to keep your veneers in good shape, they can last anywhere from 10 to 20 years. Simply take care of them, and you can expect them to take care of you for decades to come.
About the Author
Dr. Vinnie Artino is a dentist who loves to make a difference in the lives of his patients by offering not only excellent oral healthcare, but also a comforting presence that will keep his patients coming back. He works hard to understand every aspect of his field to continue to give his patients the level of care they deserve. Dr. Artino is a graduate of the University of Colorado School of Dental Medicine, and he continues his education to this day. If you have any questions about taking care of your veneers, we can be reached at our website or by phone at (303) 238-2800.